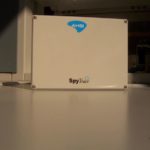 Download doc
Subscribe
Haven't you subscribed here yet? Please do it for downloading technical sheet and brochure.
Manufacturer: AHSI SpA
SPYGate
SPYGate solution provide access control on your refrigerator or cabinet thanks to RFID technologies recording in – out products, time, date and operator. A Radio Frequency reader placed on the top are able to read RFID label attached on your sample and thanks to the software you will be able to check every movimentation. SPYGate is the best solution for access control when you need to monitor sample lives.


You may also be interested in